Medium Range
Pulse Carbine / Disintegrator / Chaingun / Punisher - Just stay out of line of fire by often lane changing or maneuver in front of another vehicle as it only hits one target at a time (but just make sure you know the vehicle you're cutting won't fire at you).
Vulcan Cannon (NYI) / Flamethrower - Stay out of line of fire as it hits all targets in range.
Deployed
Timed Charge / Flare Bomb / Fuel Bomb (Remote) - Try to pay attention to when opponents drop their Timed Charge (which becomes difficult the more vehicles there are) and try to avoid them as they hit hard the closer you are to their center of proximity. Every deploy has a base energy cost, so use Shield to trick opponents to drop Timed Charges frequently to make it easier to take them down.
Depth Charge / Mine (Timed) - A variation of the mine that will detonate after a certain duration elapses, instead of manual detonation from the user. Similar as above, try to pay attention to when the mine is dropped. It is however easier to avoid as the attackers has no control as to when the mine will detonate.
Scramble Mine (Remote) - Very dangerous arsenal of the Guardian, any targets hit by the explosion will temporarily drive uncontrollably and will be unable to act. Pay special attention when you hear a mine drop and if it's Guardian who drops it. Using a shield will only reduce the damage you'll take, but unfortunately, you will still get afflicted by the Scramble effect.

Long Range
Railgun / Charge Beam / Radiant Beam - Avoid line of fire at all costs. You can take a partially charged hit, but often it's best to not get hit at all, especially by 1-shotters. Shield is your best defense against this, mitigating a large amount of the damage. For Battle games with 3+ cars, this weapon has a high tendency to score multiple kills, so it may be best to target users of this item to slow down their potentially quicker victory.
Plasma Cannon - Avoid line of fire as best as you can. Its range is long, but narrow and has a slight expensive cost and cooldown, so letting the attacker miss as often as possible will reduce the rate at which it can be fired. Again, Shield vehicles greatly reduces the threat of this weapon. Be careful when in proximity of other targets, as direct hits will cause some splash damage.
Sonic Beam - Fires similarly as the a Machine Gun, rapidly hitting a target, but has a long, narrow range. Stay out of line of fire as much as possible as it only deals more damage the longer you sustain damage from it. Also like avoiding the Pulse Carbine, you can maneuver in front of another vehicle to let them shield you from the stream of fire.
Area of Effect
Electropulse - This fires similarly as a Machine Gun - rapidly hitting 1 target at a time, but fires in a radius around the vehicle, so it is more difficult to avoid in a 1v1 game. When multiple opponents are in play, the best way to avoid fire from this item is stay out of range and try to be closely clumped with other opponents so that attackers will hit them first, as this item can only hit one closest target at a time. You can also render users of this weapon less of a threat when using deployed weapons to damage their energy.

EMP / Flare Blast / Anitmatter Pulse / Sonic Blast - Avoid staying in close proximity to the user of this item. If you can stay behind users (or ahead if you're using a Mine-type weapon) while they're charging this item, you'll be able to easily take them out. While not as dangerous as Railgun-users, it's still best to disable users of this item in Battle games as this is another item very capable of dealing multiple kills.
Power Stomp - Big Bang's very dangerous weapon to come into range with, especially in Race games with 4 players, as this item not only deals area-of-effect damage, but also causes a temporary Scrambler effect. It's best to not get into range, and like the EMP, be far behind (or ahead with a Mine-type weapon) to take them out while they're charging.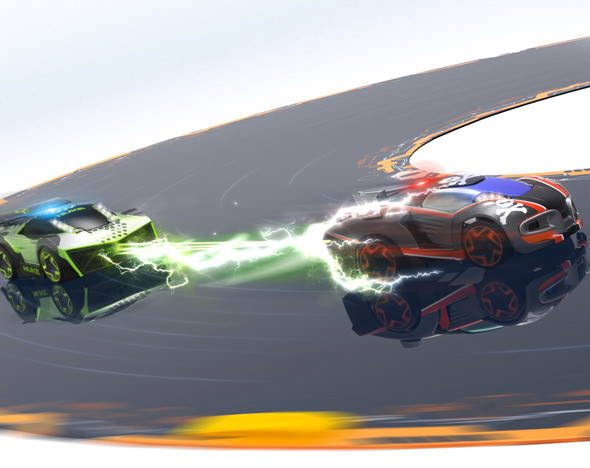 Short Range
Decimator / Ion Punch - This is a fairly dangerous weapon to come into range with, as only a few rapid shots can take you out. Avoid being in range as best as you can. If an opponent with this weapon is catching up to you slowly, you can surprise them by using a Brake type of item, putting you to their side or even behind them, but most importantly outside of the cone of fire.
Back Fire - A weapon for Big Bang that will damage targets from behind when fired. Potentially dangerous if you're trying to pull behind Big Bang. Fortunately, this item can't be fired as rapidly as the Decimator, so you can maneuver out (or ahead) of line of fire before it takes you out.